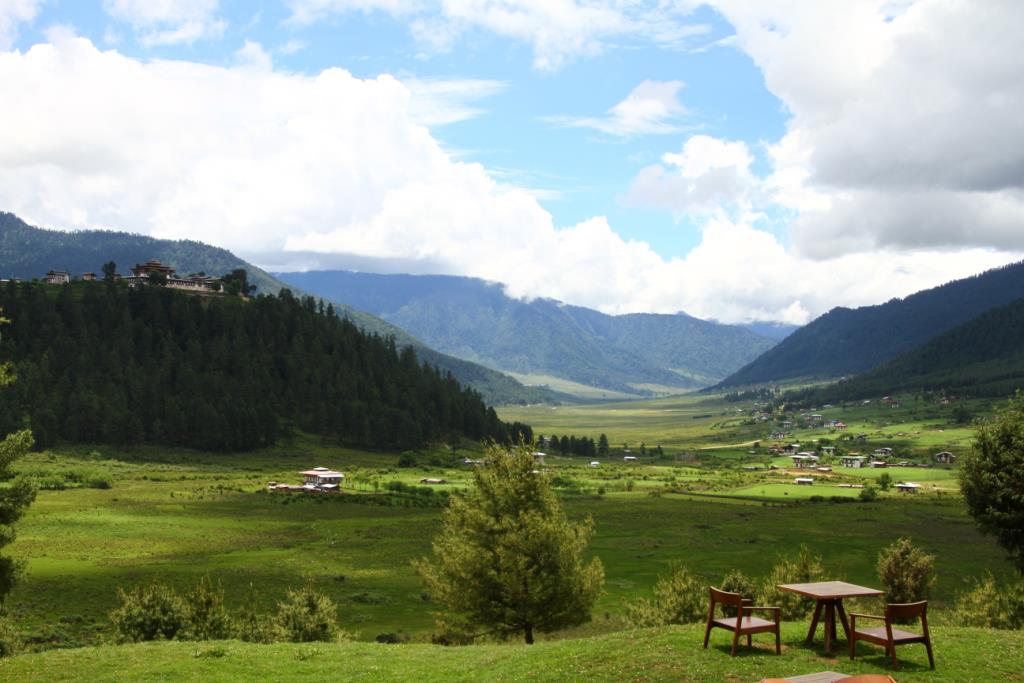 Day 1 (Paro, Thimphu)
During the flight on a clear day, you will get to enjoy breathtakings views of Mount Everest, Kanchenjungha, and other famous Himalayan peaks including sacred Mount Jumolhari and Jichu Drake Peaks in Bhutan. Upon arrival at Paro Airport, you will be greeted by our representative and trasfered to your hotel. The drive to Thimphu is about 1 and 1/2 hour. On route, enjoy the view of the Valley of Thimphu River through a rather arid and Rocky landscape. After lunch we will take you to visit the The King's Memorial Chorten (built-in memory of The Third King of Bhutan who reigned from 1952-1972), Changgangkha Monastery, the radio tower (for a great view of Thimphu Valley and The Thimphu Dzong). Overnight stay at Hotel in Thimphu.
Day 2 (Thimphu)
After breakfast, we will hike to Chagri Monastery, it take about 1 hour walk to reach the monastery. Chagri was built high on the slope in 1619 by Zhabdrung Ngawang Namgyal as his first monastery in Bhutan. It takes you through the temperate forest of oak, rhododendrons and other species of hard wood trees. The view from monastery below is spectacular. Descend down to the valley and drive back to Thimphu. After lunch you will visit The School of Traditional Arts, Mini Zoo to see takins, the national animal of Bhutan and drive to Buddha point to enjoy the view of Thimphu valley. Evening will be at leisure and you can stroll in the town, visit local handicraft shops, do shopping as you like. Overnight stay at hotel in Thimphu.
Day 3 (Punakha)
After breakfast you will visit Simtokha Dzong, the oldest Dzong in the country that was built in the year 1629, thereafter the road climbs for ahour an hour till you reach Dochula Pass at an altitude of 3150m dotted with colorful prayer flags and 108 Stupa.  Weather permits, this pass offers the most spectacular view over the high peaks of the Eastern Himalayans. You may enjoy a hot cup of tea/coffee (at own expenses) at the Dochula tourist's cafe.  Continue to descend en route to Punakha & Wangdue through the temperate forest of rhododendron & magnolia bloom in spring, then a semi-tropial zone where orange trees, banana trees and cactuses are found in abundance.   Have lunch on the way.  After lunch, you will take a walk to the temple standing on a round hill rock through a paddy field to Chimi Lhakhang or the temple of fertility. It is about 20 minutes' walk through rice terraces and the village of Yoakha. The temple is situated on the spur above the village. It is believed that barren couple will have children if they get blessing for this temple.   Overnight stay at hotel in Punakha.
Day 4 (Paro)
After breakfast, this morning the drive takes around 4 hours drive to Paro, crossing over Dochula pass. After lunch in Thimphu and continue your drive to Paro.  In Paro, your will visit Rimpong Dzong (fortress of the heap of jewels); the administrative & religious centre of Paro District. This Dzong was built in 1646 by order of Shabdrung Ngawang Namgyel, the who unified Bhutan in the 17th centur . Overnight stay at hotel in Paro.
Day 5 (Tiger's Nest)
After breakfast, you will take "pilgrimage" hike up to the most famous Taktsang Monastery, also known as Tiger Nest. All Bhutanese Buddhist desire to make this their pilgrimage at least once in thier lives and each step they take along the trail counts as merit points towards their future. The trails is through the meadow of pines, rhododendrons and oaks. Visitors choose between 2 hours round trip hike to the cafe for a good view of Monastery or a longer 5 hours more strenuous hike to the Monastery itself. It is believed that Guru Rimpoche flew here on the back of a tigress and mediated here for 3 months and subdued the local deities and converted them to Buddhism. Later in the 17th century, the 4th Desi deities or temporal ruler of Bhutan, Tenzin Rabgye built a temple in 1692 in its present form, thus fulfilling the wishes of shardrung Rinpoche who died before he built this temple. (Horse ride to the cafe is available and can be arranged at additional cost).  After lunch, on the way back to the town you will visit the oldest temple called Kichu Lhakhang, one of Bhutan's oldest and most revered temples, which was built by a Tibetan kind in 7th century to subdue the demoness.  Overnight stay at hotel in Paro.
LIKE THIS PACKAGE? MAKE A BOOKING NOW