---
Bhutan's Best Overnight Trek (2 Days)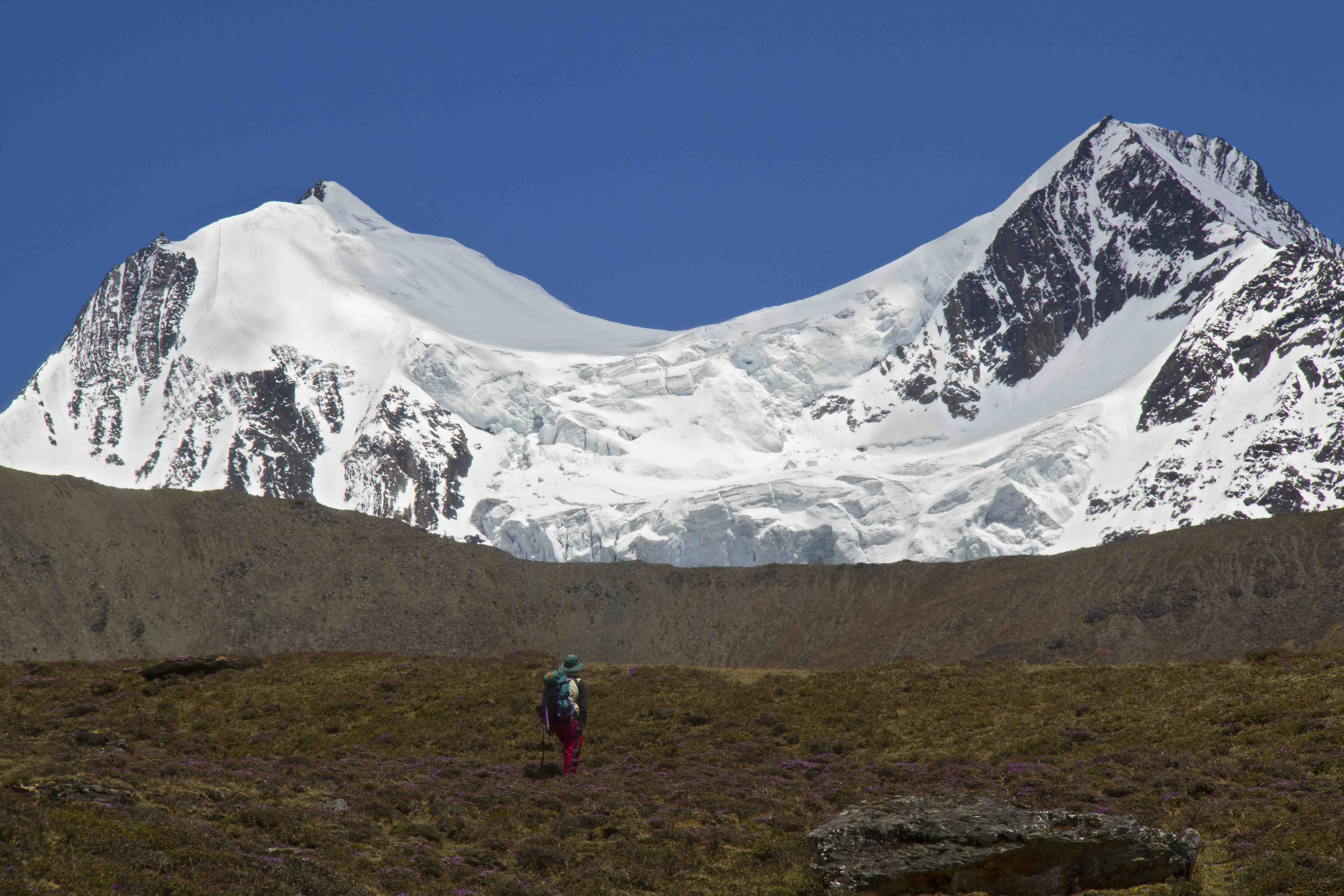 The highlight of the journey from Thimphu to Punkaha is the stopover at the Dochula Pass, where you'll witness the beauty of the 108 stupas on a hill and the brilliant sights of the Himalayan Ranges. You will also get to see the highest unclimbed mountain, Mount Gangkar Puensum, along with the sister Himalayan mountains, such as Table Mountain, Tiger Mountain, Mount Masang Gang, and many more smaller yet majestic ones. These are all snow-capped mountains that stretch beyond the clouds.
You will encounter even more spectacular and majestic views of these mountains if you take the 3-4 hour hike from Dochula to Lungchuzekha monastery. The trail brings you through the rhododendron forests, where you could be walking on the garden of rhododendron flowers during the spring, or collecting edible mushrooms along the way during the monsoon.
The LungchuTse monastery, which is located at the top, presents you with even more majestic views of the snow-capped mountains and picturesque sights of the valleys. The only structure at the top is LungchuTse monastery, which has the sacred statue of Guru Pema Jungney. The statue is believed to have 'spoken' once before and is considered to be a sacred monument.
After this spiritual visit, the trail brings you down to the Nabesa village, and through a mixed forests of hemlocks, coniferous and pine trees. An hour into the descent and you will find yourself in an open meadow, surrounded by pristine forests; the perfect spot for setting up camp overnight. Feel free to help out in pitching your tents and preparing your meals while you enjoy them by a roaring bonfire.
As you hike further down, the air gets warmer with a noticeable change in the vegetation. The birch trees will begin to appear along with a myriad of shrub bamboos. After three hours of hiking down, which can be a bit steep, you will finally arrive at Nabesa village. Nabesa is a remote village with only about six households. Spend some time exploring the traditional houses, the fields, and interacting with local villagers.
Your car will pick you up from the road point at the village and drive you to your hotel in Wangdue or Punakha.
Highlights:
English speaking guide throughout the trip
Sights of snow-capped Himalayan mountains
Visit the famous Lungchuzekha and LungchuTse monasteries
Visit the famous Guru Pema Jungney statue
Visit the Nabesa Village
Includes:
All meals during the trek
1 trekking expeditions leader
2 horsemen
1 helper
Group medical kit
Good quality accommodation throughout. The use of a world-class expedition trek pack which includes a quality sleeping bag and insulated mat
All park entrance fees and trekking permits
Horses to carry 20kg of personal equipment
Duration: 
Trip Summary
Tour Type: 2 Day Trip
Tour Difficulty: Challenging
Description: 4 – 5 hours of activity a day and/or elevation gain, uneven terrain, and steep slopes
Duration: 2 days 1 night
Contact: 
BT: +975 17161938
SG: +65 91781081
info@bhutanbesttravel.com
LIKE THIS PACKAGE? MAKE A BOOKING NOW