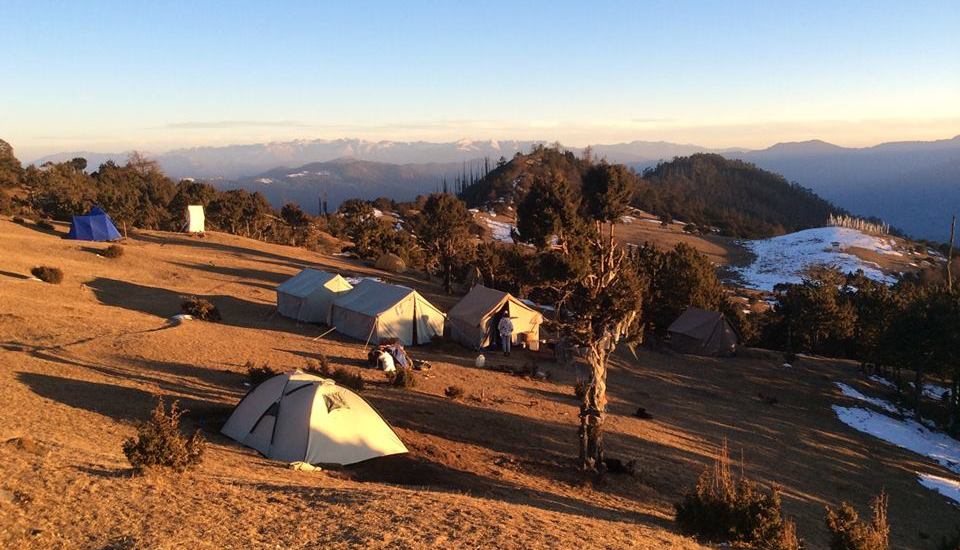 The trip begins with a drive from your hotel to the Sang Choekor Buddhist College. This is the start point for your hike, where you'll be met with friendly horses that will carry your luggage. This beautiful hike takes you to some of the most breathtaking views of the Paro valley and the Himalayan ranges, all the way up till you reach the campsite. During this portion of the hike, you'll get to see sights of the Chhoe Tse Lhakhang (monastery) nestled on the mountainside, and a view of the southern Paro and the snowcapped Himalayas.
Your campsite is located just below the Bumdra Monastery with a complete, pristine view of the Himalayan range. After lunch, feel free to visit the Monastery if you're up for it. This optional journey takes you even higher up to an altitude of 4000 meters, where you will get an even better view of the valley and the Himalayan mountains. After a long day of hiking, you'll get to enjoy your stay at the campsite with a bonfire and dinner while gazing the spectacular backdrop and a sky blanketed with glistering stars.
In the morning, you'll be woken up to a delicious breakfast and a spectacular view of the morning sunrise. After which, you'll make your descent down through the forests and towards to the valley, until you hit the Zangdopelri Lhakhang/temple. At this point, you'll get to enjoy a bird's eye view of the famous Tiger's Nest from above. A little hike further down will bring you to the famous Taktsang Monastery. After visiting the numerous small temples and caves, you will complete the hike down to the base, where your vehicle will pick you up and take you to your hotel for a well-deserved rest.
Includes:
All meals during the trek
One trekking expeditions leader
2 horsemen
One helper
Group medical kit
Good quality accommodation throughout. The use of a world-class expedition trek pack which includes a quality sleeping bag and insulated mat
All park entrance fees and trekking permits
Horses to carry 20kg of personal equipment
Duration: 
Trip Summary
Tour Type: Day Trip
Tour Difficulty: Difficult
Description: 5 to 7 hours of sustained physical activity, good levels of fitness and technical ability required.
Duration: 2 Days 1 Night
Contact: 
BT: +975 17161938
SG: +65 91781081
info@bhutanbesttravel.com
LIKE THIS PACKAGE? MAKE A BOOKING NOW