---
14 Days In Spiritual Bumthang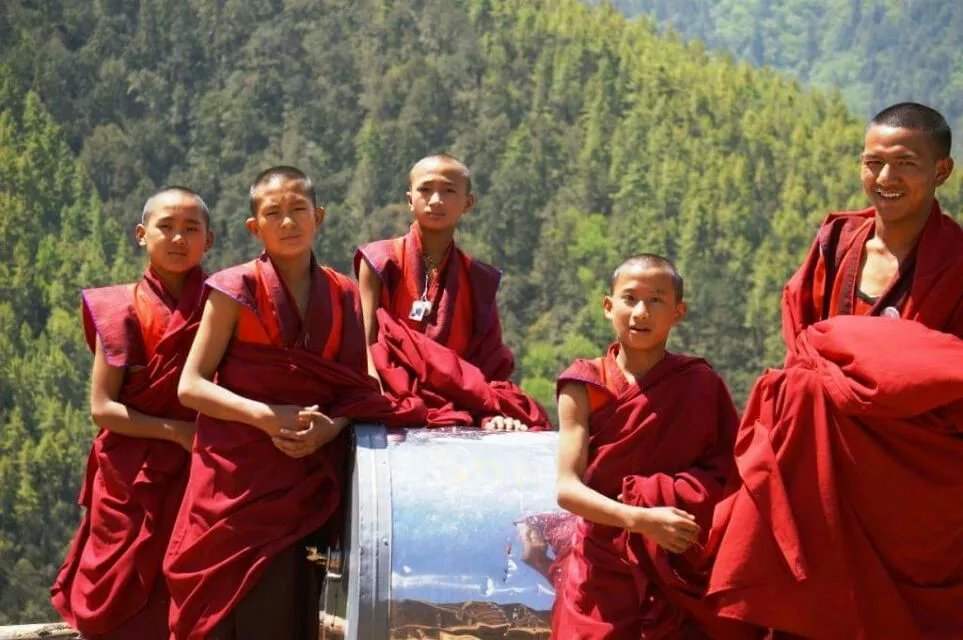 Day 1 (Paro)
Early this morning we fly to Paro. Nearing Bhutan (if the weather is clear), we see the massive peaks of the eastern Himalaya, including Kangchenjunga, (the third highest mountain in the world) and Chomolhari, Bhutan's holy mountain. On arrival, we complete visa formalities and proceed through Customs and Immigration to meet our Bhutanese guides and drivers in the arrival hall. After lunch and some time to freshen up, we head out to explore Paro. The town of Paro lies on the banks of the Pa Chu (chu means "river"), and its bucolic valley was once the center of trade for goods coming in from Tibet. Today its tiny streets are lined with brightly painted shops and restaurants. We'll drive through town to the most obvious landmark, the great Paro Rimpung Dzong. Bhutan's dzongs originally served three purposes: they were fortresses, administrative centers for local government, and a residence for the monks and place of their religious activities. Next we'll ascend a short hill behind the dzong to reach the Ta Dzong, a circular fortress that once protected this valley from Tibetan invasion. The impressive watchtower commands sweeping views of the valley below. It also houses Bhutan's National Museum, which, since 1968, has been the home of the country's most cherished relics.
Time permitting, we can also visit Kyichu Lhakhang (lhakhang means "temple"). Kyichu is one of the two oldest temples in Bhutan built around 750 CE by King Songtsen Gampo of Tibet. The king had pledged to build l08 temples to the Buddha during his lifetime. Many of them were intended to subdue a mythical demon intent on preventing the spread of Buddhism; Kyichu Lhakhang is said to be holding down the left foot of this ogress whose body is so large it covers Bhutan and most of eastern Tibet. Depending on daylight and energy levels, we may enjoy a beautiful walk back to the hotel, the Zhiwa Ling (meaning "place of peace"). Tucked in a pine-clad hillside outside of Paro, it doesn't take long to see how got its name.
Day 2 (Bumthang)
Today we fly to Jakar, the main village in the Bumthang region. Once on the ground and checked into the hotel, we can take a walk into town, exploring some of the shops and interacting with villagers as they go about their day.
Day 3 (Bumthang)
We have two days to explore Bumthang, one of the most beautiful areas in Bhutan (bumthang translates to "beautiful valley"). Bumthang also has the country's highest concentration of ancient templesand sacred monuments. Its history is punctuated by numerous visits from Padmasambhava as he brought the Buddha's teachings to Bhutan. He meditated in many local caves that now have temples and shrines associated with him. Kurje Lhakhang, a 17th-century temple, now features a spectacular new monastery built in traditional style. From Kurje, we begin our rambles through the countryside, crossing a footbridge over rushing Chamkhar Chu and wending our way through farmsteads and paddy fields to Tamshing. Tamshing was founded in 1501 by Pemalingpa, "the treasure discoverer, " a famous 14th-century blacksmith from Bumthang who is one of Bhutan's most revered Buddhist saints and teachers. We end our walk with a visit to the Swiss Project, an industrious complex producing cheese, beer, apple juice, and honey.
Day 4 (Bumthang, Trongsa)
Today we'll visit Membartsho, the "Flaming lake," a sacred place associated with Pemalingpa. Not actually a lake, Membartsho is a water-worn defile in a granite stream-bed where the water moves slowly. Legend has it that Pemalingpa, inspired by a vision in which Padmasambhava instructed him to retrieve a hidden treasure from this spot, dive into the water holding a butter lamp (which miraculously stayedlit under water) and returned with texts and treasures that had been left by the Guru. Ters are an important aspect of Vajrayana Buddhism as they provide a continual stream of teaching and revelation to future generations. Pemalingpa is considered one of the greatesttertons (treasure finders). We take advantage of the area's lovely scenery and enjoy some day hikes in preparation for our trek. By mid-afternoon we drive approximately three hours to the village of Trongsa. Remember to repack your bags for the trek, which begins tomorrow.
Day 5 (Kasiphey)
This morning we meet our horsemen and camp staff. While we are enjoying a hearty breakfast, our gear will be loaded onto pack animals, and soon we embark on the first stage of our trek. Today's hike involves a long, steep climb. Take it slow and easy, as a steady pace helps you get into a rhythm and makes the climb more manageable. As we gain elevation, we're treated to views of the valley interspersed with stretches of dense oak forests. The trail takes us over the Dhemlay La (la means "pass") at about 10,000 feet. Soak up the great vista of the entire Nubchutey area from the top. Our first night's camp is located below the captivating Kasiphey Monastery, built in 2000 by Gangtey Tulku Rimpoche and housing more than 50 monks who are studying and practicing Buddhism here.
Day 6 (Drongthang)
Today's hike begins with a descent to the river that offers stunning views of terraced fields and ancient farm houses. We hike along the Mangdu Chu for about an hour. The last hour or so we take a winding uphill trail past an old chorten (shrine) to the village of Drongthang, our home for the next two nights. This is the ancestral home of our guide, Tashi, and he opens doors for us that we would never find without a true local. Tashi's success in the world at large has made him a celebrity of sorts in Drongthang. We're privileged to join him for this festive homecoming. 
Day 7 (Drongthang)
We enjoy a rest day in Drongthang, nicknamed the Takin Village because hundreds of takins were believed to have resided in the meadow where the village is located. (The curious-looking takin is Bhutan's national animal, but unfortunately they are no longer common in this region). During our time here, we have the opportunity to mingle with the villagers and visit a home to see how arak, the local brew, is made. If you're feeling energetic, you can walk to nearby villages. Tonight our new friends honor us with a celebration, performing traditional songs and dances. Of course, we'll be invited to join in the fun.
Day 8 (Berniji)
This morning's hike is a gentle downhill to the Mangdu Chu River. Along the way we pass through several small hamlets and terraced fields overlooking the river and its valley. After lunch at a scenic overlook, we gradually make our way up to the village of Bemji with its lovely manor house. Here we camp in the schoolyard. If we're lucky, some school children will visit our camp and regale us with their pretty voices singing traditional songs.
Day 9 (Bizjam, Phobjikha)
If you're interested, you may start your day at the village school, attending the morning assembly, listening to the students sing the Bhutan national anthem (a cappella), and joining them for a brief meditation. We can also pop into their classrooms later, before we hit the trail. Our hike first takes us down and across the river, leading us to the opposite side of the valley. We round the mountainside and drop down to the village of Bjizam, where we're met by our vehicles. After savoring a picnic lunch, we drive to the Phobjikha Valley (four to five hours), cutting over the mountains at Pele La (10,944 feet). On a side road just beyond the summit is a spur road that leads to Phobjikha Valley, where we'll stop for the night.
Phobjikha is a broad, glacier-carved valley surrounded by pine forests. Black Mountain National Park, of which Phobjikha is a part, links up with Royal Manas National Park in southern Bhutan, creating a combined reserve that encompasses alpine, temperate, and subtropical ecosystems, and harbors a wide array of flora and fauna. Among its inhabitants are wild boar, deer, clouded and snow leopard, Himalayan black bear, red fox, and, from November through March, black-necked cranes. About 500 of these rare birds—fewer than 11,000 exist in the world—migrate from Tibet to roost here for the winter. If our timing is right, we may spot some of these gray-bodied visitors. 
Day 10 (Punakha)
This morning we can pay a visit to Gangteng Gompa, a 17th-century monastery overlooking the lush Phobjikha hills and wetland. Pema Lingpa, the famous 14th century blacksmith and terton from central Bhutan, chose this site for the gompa; its head lama is an incarnation of this legendary lama. Within the complex you'll find a central monastery, meditation hall, school, monks' quarters, and a courtyard. By mid-morning, we begin our drive to Punakha, the ancient capital of Bhutan (a three to four hours' drive). As we descend from the pass, alpine vegetation gives way to semitropical greenery, and a landscape featuring bananas, poinsettia, and cactus. The valley is dominated by the impressive Punakha Dzong, which sits at the confluence of the Mo ("mother") and Po ("father") rivers. Built by Shabdrung in 1637, this massive dzong is one of the holiest in Bhutan. It houses some of the country's most sacred relics, including Shabdrung's preserved remains. The Central Monk Body moves from Thimphu to Punakha every winter because Punakha's lower elevation is more temperate. Before heading to our hotel for the night, we will visit the dzong and the village of Punakha.
Day 11 (Punakha, Thimpu)
Before embarking on the drive across Dochu La to Thimphu, we can stretch our legs on a short hike to Chimi Lhakhang. This small temple is dedicated to Drukpa Kunley, affectionately called the "Divine Madman." He is one of Bhutan's favorite Buddhist saints in spite of—or because of—his irreverent and often ribald methods of teaching thedharma some 500 years ago. The valley is peppered with traces of his influence, and villagers still enthusiastically recount the legends of his exploits. Chimi Lhakhang is also known as the fertility temple; women who are having trouble conceiving come here to pray and receive the resident lama's blessings, which he punctuates by tapping the women on the head with a wooden phallus.family, and the head offices of international aid organizations in the country, Thimphu is a mix of Himalayan and Western sensibilities—internet cafés and discos abound. After we check in at our centrally located hotel, the rest of the day is free to explore.
Day 12 (Thimpu)
Bhutan's capital promises a day of captivating sights and sounds. Local shops entice us with traditional Bhutanese weavings, Tibetan and Bhutanese silverwork, coral and turquoise beads, and prayer flags. Thimpu is home to a number of cottage industries, including metalworking and paper making, and we may visit some of these workshops to see artisans practicing their craft. The National Textile Museum, established in 2001, houses a substantial collection of antique textiles and other works.
Visit to the colorful weekend market. Each week, villagers from the outlying areas cart their wares to Thimphu, including vegetables and grain produced in the nearby valleys, exotic fruits from the steamy lowlands. Depending on our interests, we can also visit the handicrafts school, a nunnery, a paper factory, or a game enclosure where Bhutan's curious national animals, the takin, can be viewed in a large enclosure. If we are lucky, we may also catch a spirited archery match in action. Archery is Bhutan's national sport (and obsession). Tournaments often last for days at a time and are highly entertaining events.
Day 13 (Tiger's Nest)
After breakfast, you will hike up to the most famous Taktsang Monastery.  The trail is through the meadow of pines, rhododendrons and oaks. It takes about 2 hours to reach the viewpoint.   Visitors can take a short break along the way at the Café to have tea or coffee and for a good view of Monastery.  It is believed that Guru Rimpoche flew here on the back of a tigress and mediated here for 3 months and subdued the local deity called singye samdrup and converted him to Buddhism. Later in the 17th century, the 4th Desi or temporal ruler of Bhutan, Tenzin Rabgye built a temple in 1692 in its present form, thus fulfilling the wishes of Zhabdrung Rinpoche who died before he built this temple. (Horse ride to the cafe is available and can be arranged at additional cost).  Upon returning to Paro, we can relax at the hotel or do some last-minute exploring in town. Tonight we enjoy a farewell dinner to celebrate our journey through the Land of the Thunder Dragon. 
LIKE THIS PACKAGE? MAKE A BOOKING NOW