---
7 Days Bumdra Monastery Trek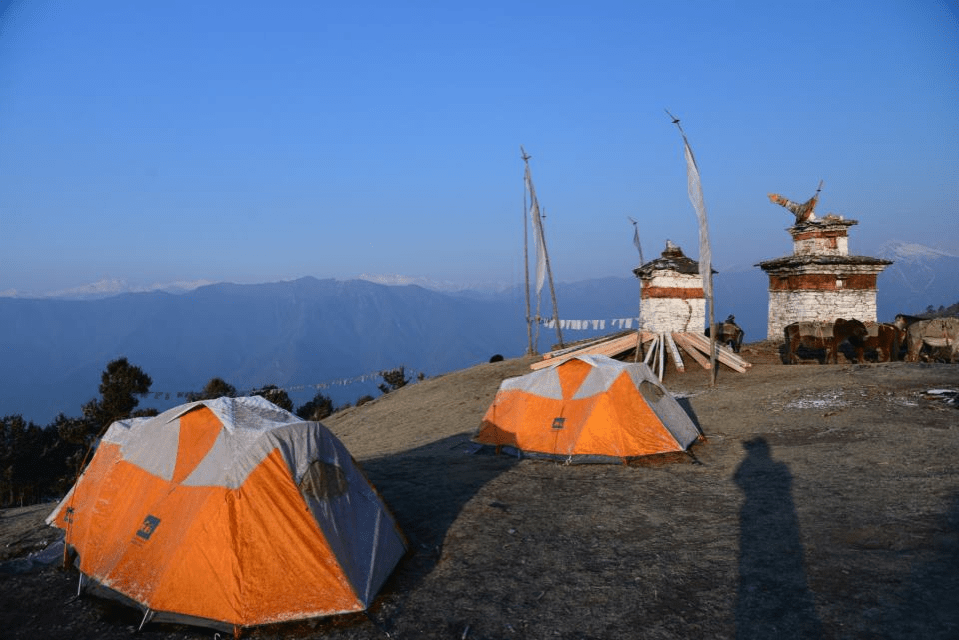 Day 1 (Paro, Thimpu)
During the flight on a clear day, you will get to enjoy breathtaking views of Mount Everest, Kanchenjungha, and other famous Himalayan peaks including sacred Mount Jumolhari and Jichu Drake Peaks in Bhutan. Upon arrival at Paro Airport, you will be greeted by our representative and transferred to your hotel.  The drive to Thimphu is about 1 an hour.  On route, enjoy the view of the valley of Thimphu and river through a rather arid and Rocky landscape.
After lunch we will take you to visit the The King's Memorial Chorten (built-in memory of The Third King of Bhutan who reigned from 1952-1972), Changgangkha Monastery, the radio tower (for a great view of Thimphu Valley and The Thimphu Dzong).
Overnight in Tara Phendeyling Hotel
Day 2 (Thimpu)
After breakfast, we will hike to Chagri Monastery, it take about an hour walk to reach the monastery.  Chagri was built high on the slope in 1619 by Zhabdrung Ngawang Namgyal as his first monastery in Bhutan.  It takes you through the temperate forest of oak, rhododendrons and other species of hard wood trees. The view from monastery below is spectacular. Descend down to the valley and drive back to Thimphu.  After lunch you will visit The School of Traditional Arts, Mini Zoo to see takins, the national animal of Bhutan and drive to Buddha point to enjoy the view of Thimphu valley. Evening will be at leisure and you can stroll in the town, visit local handicraft shops, do shopping as you like.
Overnightl in Tara Phendeyling Hotel
Day 3 (Punakha)
After breakfast you will start your Journey to Punakha, the road climbs for an hour till you reach Dochula Pass at an altitude of 3150m dotted with colorful prayer flags and 108 Stupa.  Weather permits, this pass offers the most spectacular view over the high peaks of the Eastern Himalayans. You may enjoy a hot cup of tea/coffee at the Dochula resort.  Continue to descend en route to Punakha & Wangdue through the temperate forest of rhododendron & magnolia bloom in spring, then a semi-tropical zone where orange trees, banana trees and cactuses are found in abundance.  On the way you will take a walk to the temple standing on a round hill rock through a paddy field to Chimi Lhakhang or the temple of fertility. It is about 25 minutes' walk through rice terraces and the village of Yoakha. The temple is situated on the spur above the village. It is believed that barren couple will have children if they get blessing for this temple.   After Lunch in the town, drive about ten kilometers north of Punakha, on a hill rock called Nyizergang, HM the Queen Ashi Tshering Yangden had built three stored chorten called Khamsum Yuelley Namgyal Chorten consecrated in December 1999. Situated in idyllic rural countryside, 45minutes climb from the road is well worth to see the paintings, which are beautiful and present an incredibly complex iconography and the statues. Drive back to the Dzong and walk in the Dzong by crossing the cantilever bridge. The Dzong was built in the year 1637 by Zhabdrung Ngawang Namgyal.
Overnight in Hotel Lobesa/Meripuensum Resort Punakha.
Day 4 (Punakha, Paro)
After breakfast, take a drive to Paro following the same road back crossing Dochula pass. The drive to Paro takes around four hours.
After lunch in Thimphu, continue your drive to Paro.  In Paro, you will visit Rimpong Dzong (fortress of the heap of jewels); the administrative & religious centre of Paro District. This Dzong was built in 1646 by order of Zhabdrung Ngawang Namgyel, who unified Bhutan in the 17th century. In the evening visit a farm house to experience the life style of Bhutanese people and upon your interest have your diner at this farm house.
Overnight in Mandala Resort Paro.
Day 5 (Paro, Bumdra Monastery)
Hike from Sang Choekor Buddhist College in the Paro valley (2,800 m) to Yak pasture where we camp below Bumdra Monastery (3,800 m)
Bumdra Monastery Trek – 1 night/2 days
Trekking in Bhutan is unlike anywhere else in the Himalayas. Whether taking an easy flat stroll or an arduous hike, guests will experience crystal clear air, sensational views and very often have the trek route to themselves. All parties are accompanied by a trained guide, a cook, an assistant, at least one horseman and all treks are accommodated in tented campsites.
Trekkers rarely have to carry more than a daypack as horses and yaks carry all provisions and most of the guest's belongings.
Maximum Altitude: 3,900-4000 metres.
On the Bumdra Trek, trekkers will spend two days traversing the area around the Bumdra Temple. After driving to the trek point from your hotel, trekkers climb up to the temple and enjoy lunch and beautiful views. Higher up is the campsite and it is here that guests may learn why this trek is also called the "Trek of Thousand Dakinis (celestial female beings.)" Trekkers have the opportunity to explore the caves where the thousand dakinis had convened. In the descent from camp, guests will visit a number of temples including a hill top nunnery. Beautiful views of the temple complex may be seen on the way home.
The adventure begins with an early morning drive up to the Sang Choekor to meet our ponies; while they are being loaded we may pay our respects at the college. The initial one to two-hour ascent of a shady, forested ridge, brings us to a clearing with prayer flags and views down into both the Paro and Do Chhu Valleys.
Above and ahead the Chhoe Tse Lhakhang (temple) nestles on the mountainside a further one to two hour's walk away. The trail undulates before the last steep section up to the pretty temple which offers commanding views south over Paro and northwards to the snowcapped Himalayas.
After a final 20-minute climb through ruins and fluttering prayer flags, we plunge back into ancient forest, and, after traversing for about 40 minutes, we come out onto a high wide meadow dotted with sacred chortens and prayer flags.
Our home for the night is tucked away just under Bumdra Monastery (Cave of a Thousand Prayers) and offers unimpeded views of the Himalayan range. After lunch we can visit the monastery (if it is occupied) and also climb the peak to the north (about 4000 m) for even better views, returning in time for a well earned dinner.
Duration: 3–4 hours to camp, optional 2–3 hours return trek to peak
Difficulty: Moderate, guided with picnic.
Overnight: Camping
Day 6 (Bumdra Monastery, Paro)
Return hike from Bumdra Monastery camp via Zangto Pelri Monastery & Taktsang Monastery
After a hearty breakfast, it is time to either head straight back into the valley or spend a little extra time soaking up the view. Eventually we have to drop back into the ancient pine and rhododendron forest on the monks' zig-zagging trail.
After one to two hours of descent we catch glimpses of the golden roofs of temples below. The path snakes across the mountainside between these monasteries before reaching the gardens of Zangto Pelri (Heaven on Earth) from which you can, if you are brave, peer over the edge, straight down onto the ornate rooftops of Taktsang Monastery perched against the cliff-face far below.
An hour later and we are across the gorge from Taktsang Monastery. Follow a steep descent to a waterfall then up some steps and you'll reach the Tiger's Nest itself. It is believed that Guru Rimpoche flew here on the back of a tigress and mediated here for 3 months and subdued the local deity called singye samdrup and converted him to Buddhism. Later in the 17th century, the 4th Desi or temporal ruler of Bhutan, Tenzin Rabgye built a temple in 1692 in its present form, thus fulfilling the wishes of Zhabdrung Rinpoche who died before he built this temple. Retracing our steps we begin the final descent of about 45 minutes to Paro Valley floor to reach our vehicle from where you will be transferred by road to your overnight accommodation. On the way back to the town you will visit the oldest temple called Kyichu Lhakhang which was built by a Tibetan king in 7th century to subdue the demons.
Duration: 5 – 7 hours depending on time taken in monasteries
Difficulty: Moderate
Overnight in Mandala Resort Paro
Day 7 (Depart)
Our representatives will transfer you to Paro International Airport.  Wish you a safe journey and thanks for visiting Bhutan.
Hope to see you again.
Tashi Delek!
LIKE THIS PACKAGE? MAKE A BOOKING NOW