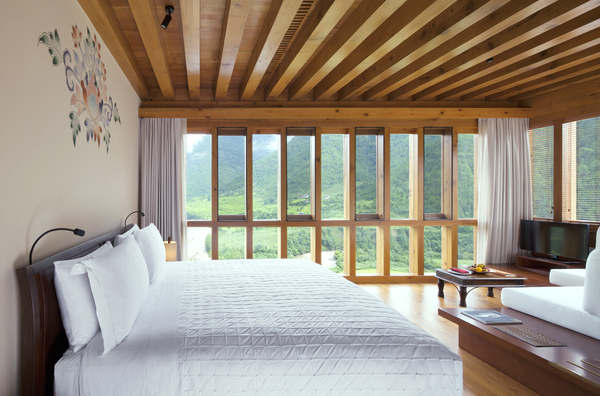 Uma Punakha will feature 11 luxury accommodations, all with spectacular panoramic views of the Punakha Valley.
In the alluring landscape of the Punakha Valley surrounded by picturesque mountain ranges lies Uma by COMO Punakha. This 5-star luxury resort sits neatly on a hillside in a secluded region of the Bhutan Kingdom. This distinguished hotel overlooks a bend in the snake-like Mo Chu River. Uma Punakha offers 8 gorgeous Valley View rooms, one 1-bedroom villa, and two 2-bedroom villas that are perfect for an amazing visit to this picturesque country.
Rating: 5 stars
No of rooms: 8 Deluxe, 1 One Bedroom Villa & 1 COMO Villa
WiFi: Free
Spa Facilities: Hot stone bath and massage
READY TO BOOK A TRIP TO BHUTAN?